The fortress of the Reformation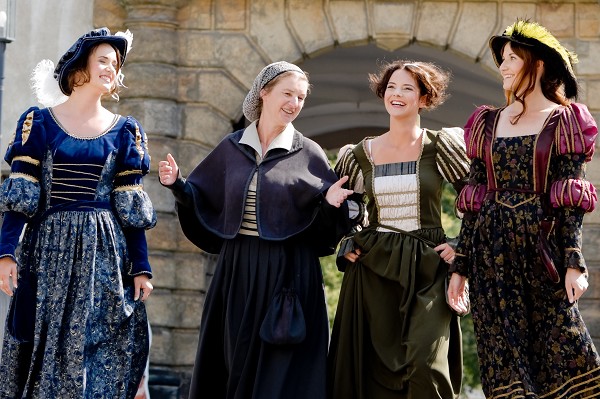 More than 40 of Luther's stops in the city have been documented. Torgau is not only the last station in Katharina von Bora's life, it is also her first station on her way into a civilian life. The League of Torgau was signed in 1526, and four years later the Articles of Torgau were completed as the foundation for the Creed of Augsburg. Luther consecrated the castle church as the first Protestant building of a church. In cooperation with the State Art Collection Dresden, first-class special exhibits are on display in the rooms of Hartenfels Castle within the scope of the Luther Decade. They will display the correlation between royal power and a new religious conviction pertaining to a variety of facets.
The "Princely Guards" exhibit shows a fascinating prelude to the "Luther and the Electors" special exhibit scheduled for 2015. Hereby, the city of Torgau will open the series of four national special exhibits within the scope of the anniversary of the Reformation, which will continue at the Wartburg, in Wittenberg and in Berlin until 2017.
Proposed programme
Follow in the steps of Martin Luther and his wife, Katharina!
A guided tour through the historical old town with viewings of the interior of St Mary's parish church, lunch perhaps at "Herrn Käthe"
Guided tour of Hartenfels Castle with a visit to the "Princely Guards" special exhibit, the Lapidary and a viewing of the interior of the palace church with organ music, copying a verse from the Bible in the former superintendenture, "In Luther's steps" workshop in the "Roots and Wings" exhibit
Services:
Package includes:
1 guided tour of the castle with a visit to the special exhibit (2 hours)
1 guided tour of Torgau (2 hours)
1 organ concert (approx. 25 minutes)
1 visit to the "Roots and Wings" exhibition incl. a workshop (1.5 hours)
1 lunch
incl. admission fees and church fee
bookable:
Year round, Advance bookings are requested
locations:
Torgau
Contact:
Torgau-Informations-Center
Markt 1, 04860 Torgau
Tel. +49 (0) 3421 70140
E-Mail: info@tic-torgau.de
www.tic-torgau.de